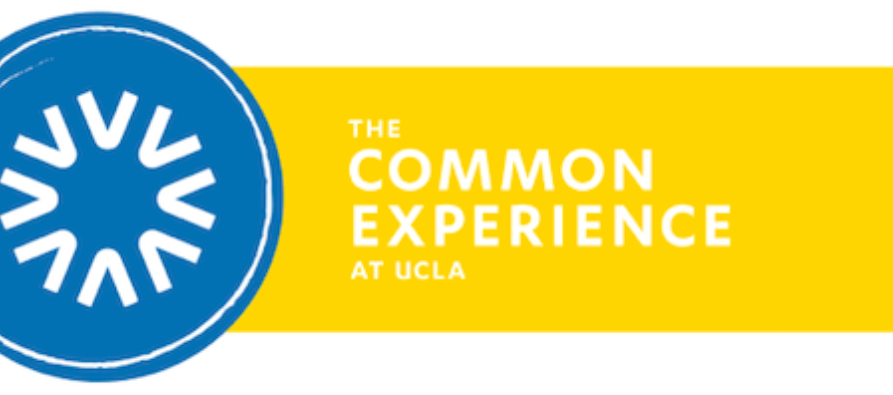 Each year, The Common Experience selects a title for the Bruin community to read, listen or watch together centered around a common theme. Our mission is to ignite campus-wide discussions on compelling social issues and inspire action within the Bruin community.
Goals of The Common Experience program include:
To share and understand diverse perspectives in a respectful way
To build a community of intellectually engaged learners
To explore the role we play in creating a just society
To consider critical action steps that can be taken in response to your common experience at UCLA
During Winter and Spring quarters, students, faculty, staff, and alumni are able to participate in discussions and programming about the selected work and related issues based on the theme.
Program History
Established in 2008 by Dr. David Gere and Bridget Collier, The Common Experience at UCLA (formerly known as The Common Book Program), was created for first-year undergraduate students to connect with one another through group discussion and year-long programming based on a common book.
What started as a "think tank" program within a small community of students in Hedrick Summit, then became a way for students to engage in conversations around global citizenship and cultural competency. Through year-long programs and seminar-based discussions, students were able to translate themes from the first Common Book, Mountains beyond Mountains by Dr. Tracy Kidder, into positive high-impact actions that improved the UCLA community.
While the mission has remained the same, The Common Experience at UCLA has expanded beyond just first-year students and now connects the entire UCLA community through innovate programming, collaborative partnerships, and inspirational dialogue centered on a common theme.
Previous Selections
2021- The Social Dilemma
2020 - BoJack Horseman
2019 - There Goes the Neighborhood
2018 - The Line Becomes a River, by Francisco Cantú
2017- The Best We Could Do, by Thi Bui
2016 - Between the World and Me, by Ta-Nehisi Coates
2015 - Bad Feminist, by Roxane Gay
2014 - I Never Had It Made, by Jackie Robinson
2013 - The Other Wes Moore,by Wes Moore
2012 - Pedro & Me, by Judd Winick
2011 - The Immortal Life of Henrietta Locks, by Rebecca Skloot
2010 - Zeitoun, by Dave Eggers
2009 - Mountains Beyond Mountains, by Tracy Kidder
Nomination & Selection Process
The 2022-2023 academic year marks the 14th year of the UCLA Common Experience program. This program embodies UCLA's spirit of working toward a just world and inspiring our students to be a catalyst for action. Nominations are welcomed from the UCLA community as we consider all nominations carefully. A committee comprised of faculty, students, and staff meet to discuss each nominated title and determine which title would best continue the legacy of our Common Experience program.
For more information on the selection and nomination process, please see below.

The Common Experience Selection Process is a year-long process that begins during Spring Quarter. After collecting nominations throughout the year from the UCLA community, the FYE team convenes a selection committee comprised of students, staff, and faculty, to meet to discuss the nominations. At this meeting, the committee reviews the nominations, weighing in their thoughts and opinions using the following selection criteria:
Connection to Common Experience goals (The Common Experience allows students to share and understand diverse perspectives, build community, and critically consider their role in creating a just society.)
Readability
Relatability to incoming freshman and transfer students and the greater UCLA community
Encourages student engagement via programming and discussions
Reasonable length
Can potentially be integrated into classroom curriculum
During this meeting, the list of nominees is narrowed down to 3-4 options. The committee then reads these final nominations in their entirety over the summer. In late July, the group comes together again to discuss the titles they read and to make their recommendation for the year's Common Experience.
Fall Quarter is spent making preparations for the Common Experience and its programming, and the Common Experience programming starts at the beginning of Winter Quarter.
Involvement in the Common Experience Selection Committee
Join our Common Experience Selection Committee! Each UCLA Common Experience is selected by a committee comprised of UCLA students, staff, and faculty. Committee members must commit to attending three mandatory meetings and reading, watching, or listening to the nominated works.
We are currently seeking committee members for the 2023-2024 Common Experience Selection Committee! To join our Selection Committee and be part of selecting our next Common Experience, please email firstyearexperience@orl.ucla.edu. We look forward to another historic selection with you!