About OOS Students
Bruins come to UCLA from near and far, and every year our out-of-state students travel miles in planes, trains, buses, and cars to attend UCLA. Out-of-state (OOS) students at UCLA represent every region in the country, including the Northeast, Southeast, Midwest, Southwest, Northwest, and Non-contiguous regions. Moving across the country can be an intimidating experience, but there are resources and programs dedicated to helping you find your community at UCLA.
Our mission in FYE is to bring awareness to the out-of-state population at UCLA and ensure students find their home away from home. We want our out-of-state students to feel like Bruins, regardless of where your home state is and even though UCLA may at times feel foreign. First Year Experience is dedicated to equipping you with the tools, knowledge, and tips you need to be successful at UCLA. We host events for out-of-state students, connect students to resources, and support the Out of State Student Association (OSSA).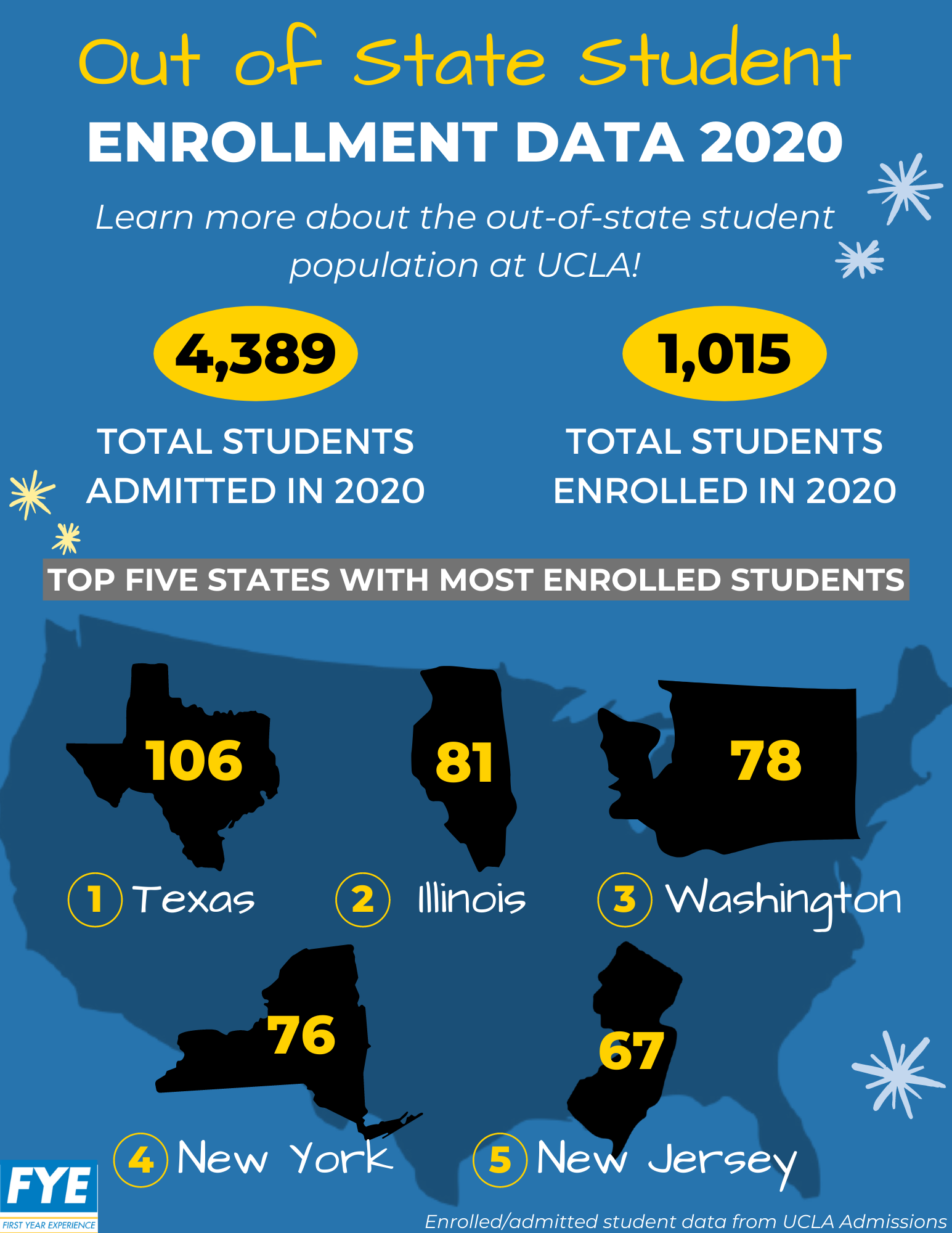 About OSSA
The Out of State Student Association (OSSA) is a registered student organization here to provide peer-to-peer connection and community between OOS Bruins. Stay involved with OSSA by joining their mailing list and follow their Instagram to learn about their programs and resources for out-of-state students. Hear from OSSA's President, Sakshi Joglekar to learn more about the organization.
Welcome Out of State Bruins!
My name is Sakshi Joglekar and I am the President of the Out of State Student Association at UCLA. Coming from the small town of Anderson, South Carolina, UCLA was a huge shift for me. It didn't take long for UCLA to feel like home, but with only 15% of UCLA's massive student population being from out of state, I wanted a way to connect with more people from my state and region. This is why I created the Out of State Student Association in 2019.

As UCLA's only organization for out of state students, OSSA aims to foster community through social events, workshops, newsletters, networking and more. Our goal is to help students adjust to campus life, advocate for out of state students on campus, and connect students with each other and with people from their state or area. Having these relationships through OSSA has certainly helped make home feel a little closer for me, and I hope it can do the same for you.
Hope to see you at an OSSA event soon!
Newsletter
Receive weekly updates on campus resources, scholarships, and more!
Social Media
All engagements and meetings with OSSA are held remotely for the 2020-2021 school year. Stay connected with OSSA through their social media platforms!
Out-of-State Student Profiles
Name: Emily Gibson
Year: Junior, Class of 2022
Major/Minor: Double major in English and Political Science; minor in Film
Hometown: Glen Ellyn, Illinois
At UCLA, I am a tour guide, the USAC Financial Supports Commission written media director, a member of the community outreach team for the Women's Empowerment Coalition, and a member of Greek life.
I chose UCLA because of its core value in diversity, and its continual aim for progress towards a brighter future. UCLA not only helped me to grow through all of the amazing people around me, each with a different background and story, but it also taught me that my voice, my identity, and my story deeply matter.
Name: Ravdeep Warar
Year: Freshman, Class of 2024
Major: Psychobiology
Hometown: Shreveport, Louisiana
I am involved with the Pre-Dental Student Outreach Program (PDSOP), Heal, Empower, Act, and Learn (HEAL) Tutoring Program, and the Sikh Student Association (SSA).
I chose UCLA because of the challenging yet collaborative environment that has allowed me to grow and become a better person. I love how it is easy to stay focused and on track for my goals with all the support offered, while at the same time having lots of fun.
Name: Megan Tagami
Year: Sophomore, Class of 2023
Major: Double major in Political Science and Public Affairs
Hometown: Honolulu, Hawaii
On campus, I am involved in LASEO, which is a tutoring organization supporting middle school students, and the Daily Bruin, UCLA's student newspaper!
I chose UCLA because of its warm and supportive environment, as well as its great opportunities to pursue different majors and research!
Do you want to learn more about navigating UCLA as an out-of-state student? Read blogs written by current out-of-state students that describe their experience, why they chose UCLA, and the different resources UCLA offers.
OOS Resources
Explore LA
Natural History Museum: Virtual Tours
(scroll down for virtual tours of the dinosaur room and tar pits)
MOCA (Museum of Contemporary Art): Virtual Tours
Hollyhock House (Frank Lloyd Wright)
The Getty: Online Art Exhibitions
LACMA: Short Films and Documentaries
Craft & Folk Art Museum: Explore Exhibitions
DiscoverLA: Daily LA Sunset Broadcast evening
Dashew Center for International Students & Scholars
The Dashew Center is the place where domestic and international students and scholars meet! The center enhances the UCLA experience for international students and scholars with multicultural programs and services.
The Dashew Center also provides visa services for newly admitted international students and serves as a resource and learning center for the entire UCLA community to promote global connection, international understanding and cultural sensitivity.