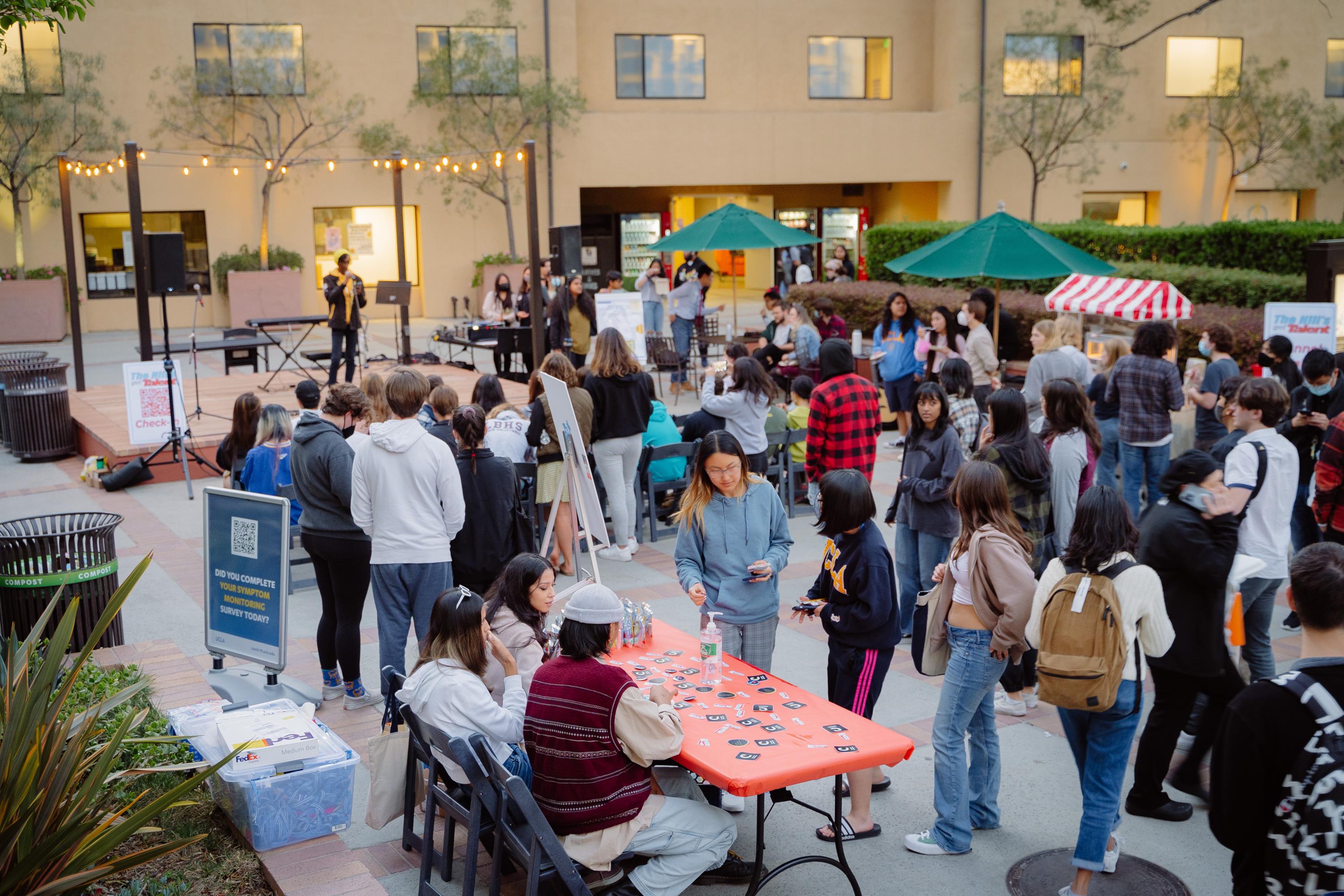 Your Home Away From Home
As a first year Bruin, you will become a part of a large, diverse and active community at UCLA. It may seem intimidating at first to find your way around such a big campus, but rest assured, there is a community here for you, and FYE is here to help you find your home away from home. This page will help you get involved with identity-based resources and organizations, participate in service opportunities, and connect with student organizations.
Join Student Orgs
There are over 1,000 student organizations on campus! All student organizations are advised through the Main Office of Student Organizations, Leadership & Engagement (SOLE). Visit the SOLE website to explore potential organizations to join once you are on campus.
During True Bruin Welcome, you will have to opportunity to learn more in-depth about all student organizations at the Enormous Activities Fair. This will be your chance to sign up for email listservs, talk to current club members, and discover organizations that speak to your own interests and passions.
Undergraduate Research Center- Humanities, Arts, and Social Sciences
You can contribute to the body of knowledge in your field, gain transferable skills, get hands-on experience, build meaningful relationships and receive mentorship, earn course credit, and increase your competitiveness for graduate school or jobs through resources provided through the Undergraduate Research Center- HASS. We offer six scholarship programs with scholarships from $300 to $15,000, advising appointments, workshops, travel grants, and SRP 99 contract courses. You can find opportunities on the Undergraduate Research Portal (urp.my.ucla.edu), Plus, we host UCLA's annual Undergraduate Research Week each May (urweek.ugresearch.ucla.edu/)!
Transfers! There's no right or wrong time to start research or creative inquiry! Fifty percent of URC-HASS's program participants are transfers. You can design your own project or help with a faculty member's project.
Important Dates:
SRP 99 contract courses: Friday of Week 2 each quarter
Research Revealed scholarship program: 9/1/22 for fall quarter
Undergraduate Research Fellows Program (URFP): 11/15/22
Mellon Mays Undergraduate Fellowship (MMUF): 11/15/22
A334 Murphy Hall | urhass@college.ucla.edu | (310) 825-2935
Center for Accessible Education
The Center for Accessible Education serves as a central resource on disability-related information for students, procedures, and services for the University student community. The Center for Accessible Education provides expertise in determining and implementing appropriate and reasonable accommodations for academics and housing. UCLA students with disabilities are fundamental to the diverse pillars of the University, and we work to support you in accessing the educational experience at UCLA.
A255 Murphy Hall | caeintake@saonet.ucla.edu | (310) 825-1501
Bruin Resource Center
The Bruin Resource Center serves all UCLA students, with a particular focus on:
The BRC also offers programs that promote holistic development and education of the student and the larger campus community.
Community Programs Office (CPO)
The Community Programs Office is UCLA's cross-cultural center that aims to build and nurture an inclusive and diverse community of scholars and leaders who are committed to giving back to historically marginalized communities. Programs include student-initiated, student-run outreach, service and retention.
The LGBT Campus Resource Center
The Lesbian, Gay, Bisexual and Transgender Center at UCLA offers a comprehensive range of education and advocacy services supporting intersectional identity development. The LGBT Center offers weekly workshops, support groups, counseling, ally training, and more.
Volunteer Center
Looking to give back to the community and expand your Bruin network? The UCLA Volunteer Center coordinates service activities on campus and throughout Greater Los Angeles to inspire members of the extended UCLA family to give of their time and talent. Both one-time and ongoing events are available to UCLA students throughout the year.
The Office of Equity, Diversity and Inclusion
Under the leadership of Vice Chancellor Anna Spain Bradley, the Office of Equity, Diversity and Inclusion upholds the mission to build equity, for all.
The office works with student, staff and faculty in areas of community engagement, prevention and compliance, research and policy, and advice and counsel.
UCLA Athletics
Show your Bruin Pride by cheering on UCLA athletic teams! Purchase the Den Pass to attend every Football game and up to 18 Men's Basketball home games!